Superintendent's Letter To The Community (Back To School 2022)

Traducción al español a continuación
August 15, 2022
Dear Ridgway School District Community:
It is my pleasure to welcome new and returning families to the upcoming 2022-2023 school year. I would like to provide some back to school details and introduce our new staff.
Fall Registration
Our online Powerschool registration for new families opens Tuesday, August 16th.
Our returning family registration opens Thursday, August 18th.
Both elementary and secondary school offices are now open M-F, 8-3:30 pm. IN-PERSON registration support for both elementary and secondary school is available at the offices.
Ridgway Elementary School (RES) and Ridgway Secondary School (RSS) Orientations:
Ridgway Elementary Students/Parents Meet & Greet: Thursday, August 25, 4:30-5:30 pm (RES) A chance for students and parents to meet their teacher and have a classroom peek.
High School Students/Parents Orientation: Tuesday, August 23, 6-7 pm (RSS Gym )Learn about this year's program, hosted by principal, Mr. Randolph, meet teachers
Middle School Students/Parents Orientation: Thursday, August 25, 6-7:30 pm (RSS Gym) Learn about this year's program, hosted by principal, Mr. Randolph, meet teachers
School Start & End Times:
RES: M-F, 8 am-3:00 pm
RSS: M-F, 8:10-3:10 pm
First Day of School: Monday, August 29th K-12
Preschool starts on August 31st/Sept 1st (in 2 groups–teachers will send details)
Health & Safety Updates:
The administration has been working closely with our local law enforcement and emergency services for a strong and safe school opening. All staff receive a number of safety trainings during our Back-to-School Week. Safety information is also available on our website.
COVID-19 is now a part of routine disease control. This means that just like lice or flu or other diseases, unless we have an outbreak in a particular class, the district will not report each case to the public. We will continue to provide a welcoming environment for those who would like to wear masks. We will also continue to have students stay home when sick and maintain healthy handwashing, the use of our HEPA air filters and other sound public health practices. As always, we all need to nurture a flexible, open and compassionate spirit of teamwork for our collective health and safety.
Elementary Summer Renovations
Asbestos mitigation is complete and FCI has started on the internal demolition in the 1972 building. They have fenced the construction area and the divider wall between construction and learning is now established in the glass hallway.
Access to the playground and preschool is through the Fairy Garden gate. Students, staff and parents can enter through the 1996 main entrance to access their classrooms and the temporary modulars.
Ms. Hanssen will work with the elementary team and communicate all details about school opening in the next week.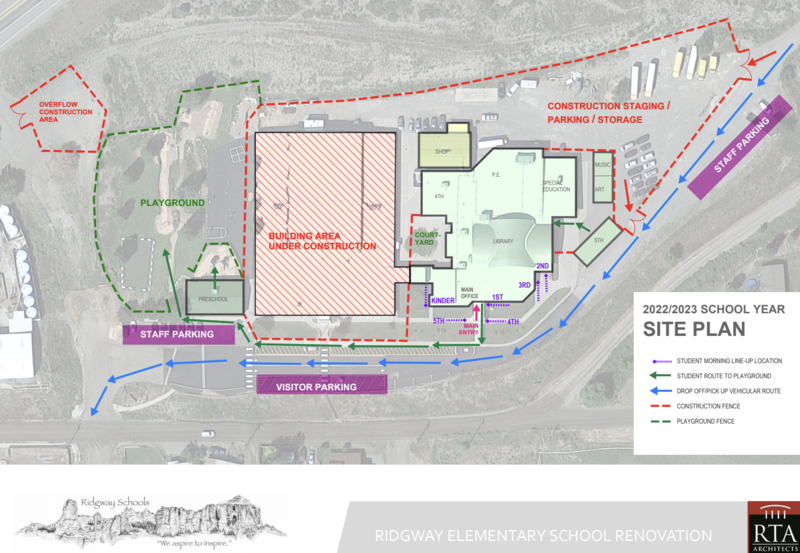 The Site Plan map provides an overview for the 2022-23 school year. Also on the website.
El mapa del Plan del sitio proporciona una visión general para el año escolar 2022-23. También en la página web.
New Website:
Take time to visit our newly launched 'renovated' district website! www.ridgway.k12.co.us
On the bottom of the homepage we have a Feedback button. We would love to hear from you as we work to make this new website the best it can be. This is a "work in progress", so feedback is always welcome.
We will send out information soon about how to access the new RSD App which makes it easier for phone access. We are excited about this improved communication tool for our district.
A very special thank you to Martha Altman, Kevin Rogers, and our principals for all their hard work over the last months with this project.
Bus Route Registration and Routes:
Families that plan to ride the bus need to sign up as a part of registration
Contact Shane Ayer, Transportation Director at sayer@ridgway.k12.co.us with any questions.
Introduction of New Staff & Updates:
I would like to offer a warm welcome to our new staff as they join our team for the 2022-2023 school year. Specifically, Perri Gipner (Elementary Intervention), Katy Kristoffersen (Elem Music), Haley Miracle (Elem Sped Paraprofessional), Andrya Brantingham (RSS Special Education), Karl Topper (HS Science), Megan Wade (HS English & Library), and Alice Billings (MS Art). I would also like to extend a welcome to Michelle Myers, who joined our custodian team in June. She will work in the RSS building when school starts. I know that all of our community will reach out to our newest members and help welcome them to our wonderful Ridgway School District community.
All the best to returning staff entering new positions as well: Alisha Perkovich (RES Office Manager), Laura Galgan (Title 1/Elem class support), & Jodi Brown (5th grade).
As superintendent, I am fortunate to work in partnership with our wonderful school board: Aimee Quadri, Valene Baskfield, Brian Patton, Alicia Skoko, and Jill Hepp. This tremendous team has not only helped the district weather the pandemic storms with grace and compassion but helped us pass the mill levy and bond in November 2022 that has made it possible for us to raise staff and teacher salaries and renovate our aging elementary school building. Their tireless efforts as volunteers for our school community are to be commended.
I also extend our appreciation for our Uncompahgre Board of Cooperative Services (UnBOCES) neighbors currently housed in the secondary school building. As always, Tammy's team of special service providers help all our students successfully learn. The UnBOCES support has made it possible for Whitney Shelton to join the Ridgway and Ouray School Districts as a part-time social worker this year.
We are very fortunate to have such a strong team of educators, staff, students, and families in our community. Together we will 'aspire to inspire' as we teach and learn this year.
All the best for a wonderful school year,
Susan Lacy, Superintendent
"Alone we can do so little; together we can do so much." – Helen Keller
~~~~~~~~~~~~~~~~~~~~~~~~~~~~~~~~~~~~~~~~~~~~~~~~~~~~~~~~~~~~~~~~~~~~~~~~~~~~~~~~~~~~~~~~~~~~~~~~~~~
agosto 15, 2022
Querida comunidad del Distrito Escolar de Ridgway:
Es un placer para mí dar la bienvenida a las familias nuevas y que regresan al próximo año escolar 2022-2023. Me gustaría proporcionar algunos detalles de regreso a la escuela y presentar a nuestro nuevo personal.
Registro de otoño
➢ Nuestra inscripción en línea de Powerschool para nuevas familias se abre el martes 16 de agosto.
➢ Nuestro registro familiar de regreso se abre el jueves 18 de agosto.
➢ Las oficinas de las escuelas primarias y secundarias ahora están abiertas de lunes a viernes, de 8 a 3:30 p.m. El apoyo de inscripción en persona para la escuela primaria y secundaria está disponible en las oficinas.
Orientaciones de la Escuela Primaria Ridgway (RES) y la Escuela Secundaria Ridgway (RSS):
● Ridgway Elementary Students/Parents Meet & Greet: Jueves, 25 de agosto, 4:30-5:30 pm (RES)
Una oportunidad para que los estudiantes y los padres conozcan a su maestro y echen un vistazo al aula.
● Orientación para estudiantes / padres de secundaria: martes 23 de agosto, 6-7 pm (GIMNASIO RSS)
Conozca el programa de este año, organizado por el director, el Sr. Randolph, conozca a los maestros
● Orientación para estudiantes / padres de escuela intermedia: jueves 25 de agosto, 6-7:30 pm (gimnasio RSS)
Conozca el programa de este año, organizado por el director, el Sr. Randolph, conozca a los maestros
Horario de inicio y finalización de la escuela:
● RES: M-F, 8 am-3:00 pm
● RSS: M-F, 8:10-3:10 pm
● Primer día de clases: lunes 29 de agosto K-12
● El preescolar comienza el 31 de agosto / 1 de septiembre (en 2 grupos, los maestros enviarán los detalles)
Actualizaciones de salud y seguridad:
● La administración ha estado trabajando en estrecha colaboración con nuestros servicios locales de aplicación de la ley y emergencias para una apertura de escuela fuerte y segura. Todo el personal recibe una serie de capacitaciones de seguridad durante nuestra Semana de Regreso a la Escuela. La información de seguridad también está disponible en nuestro sitio web.
● COVID-19 ahora es parte del control rutinario de enfermedades. Esto significa que al igual que los piojos o la gripe u otras enfermedades, a menos que tengamos un brote en una clase en particular, el distrito no informará cada caso al público. Continuaremos proporcionando un ambiente acogedor para aquellos que deseen usar máscaras. También continuaremos haciendo que los estudiantes se queden en casa cuando estén enfermos y mantengan un lavado de manos saludable, el uso de nuestros filtros de aire HEPA y otras prácticas sólidas de salud pública. Como siempre, todos necesitamos fomentar un espíritu flexible, abierto y compasivo de trabajo en equipo para nuestra salud y seguridad colectivas.
Renovaciones de verano de primaria
● La mitigación del asbesto está completa y FCI ha comenzado la demolición interna en el edificio de 1972. Han cercado el área de construcción y el muro divisor entre la construcción y el aprendizaje ahora está establecido en el pasillo de vidrio.
● El acceso al patio de recreo y al preescolar es a través de la puerta del Jardín de las Hadas. Los estudiantes, el personal y los padres pueden ingresar a través de la entrada principal de 1996 para acceder a sus aulas y a los módulos temporales.
● La Sra. Hanssen trabajará con el equipo de primaria y comunicará todos los detalles sobre la apertura de la escuela en la próxima semana.
Nuevo sitio web:
● ¡Tómese el tiempo para visitar nuestro sitio web del distrito "renovado" recientemente lanzado! www.ridgway.k12.co.us
● En la parte inferior de la página de inicio tenemos un botón de comentarios. Nos encantaría saber de usted mientras trabajamos para hacer que este nuevo sitio web sea lo mejor posible. Este es un "trabajo en progreso", por lo que la retroalimentación siempre es bienvenida.
● Pronto enviaremos información sobre cómo acceder a la nueva aplicación RSD que facilita el acceso telefónico. Estamos entusiasmados con esta herramienta de comunicación mejorada para nuestro distrito.
● Un agradecimiento muy especial a Martha Altman, Kevin Rogers y nuestros directores por todo su arduo trabajo durante los últimos meses con este proyecto.
Registro de rutas de autobús y rutas:
● Las familias que planean viajar en el autobús deben inscribirse como parte del registro
● Póngase en contacto con Shane Ayer, Director de Transporte de sayer@ridgway.k12.co.us si tiene alguna pregunta.
Introducción de nuevo personal y actualizaciones:
● Me gustaría dar una cálida bienvenida a nuestro nuevo personal a medida que se unen a nuestro equipo para el año escolar 2022-2023. Específicamente, Perri Gipner (Intervención Elemental), Katy Kristoffersen (Elem Music), Haley Miracle (Elem Sped Paraprofessional), Andrya Brantingham (RSS Special Education), Karl Topper (HS Science), Megan Wade (HS English & Library) y Alice Billings (MS Art). También me gustaría dar la bienvenida a Michelle Myers, quien se unió a nuestro equipo de custodios en junio. Ella trabajará en el edificio RSS cuando comience la escuela. Sé que toda nuestra comunidad se acercará a nuestros miembros más nuevos y ayudará a darles la bienvenida a nuestra maravillosa comunidad del Distrito Escolar de Ridgway.
● Todo lo mejor para el personal que regresa ingresando a nuevos puestos también: Alisha Perkovich (Gerente de la Oficina de RES), Laura Galgan (Apoyo de clase título 1 / Elem) y Jodi Brown (5to grado).
● Como superintendente, tengo la suerte de trabajar en asociación con nuestra maravillosa junta escolar: Aimee Quadri, Valene Baskfield, Brian Patton, Alicia Skoko y Jill Hepp. Este tremendo equipo no solo ha ayudado al distrito a capear las tormentas de la pandemia con gracia y compasión, sino que también nos ayudó a aprobar el impuesto y el vínculo de molino en noviembre de 2022 que nos ha permitido aumentar los salarios del personal y los maestros y renovar nuestro edificio de escuela primaria envejecido. Sus incansables esfuerzos como voluntarios para nuestra comunidad escolar son dignos de elogio.
● También extiendo nuestro agradecimiento por nuestros vecinos de la Junta de Servicios Cooperativos de Uncompahgre (UnBOCES) que actualmente se encuentran en el edificio de la escuela secundaria. Como siempre, el equipo de proveedores de servicios especiales de Tammy ayuda a todos nuestros estudiantes a aprender con éxito. El apoyo de UnBOCES ha hecho posible que Whitney Shelton se una a los distritos escolares de Ridgway y Ouray como trabajadora social a tiempo parcial este año.
Somos muy afortunados de tener un equipo tan fuerte de educadores, personal, estudiantes, y familias en nuestra comunidad. Juntos "aspiraremos a inspirar" mientras enseñamos y aprendemos este año.
Todo lo mejor para un maravilloso año escolar,
Susan Lacy, Superintendente
"Solos podemos hacer tan poco; juntos podemos hacer mucho." – Helen Keller