Ridgway is located in Southwest Colorado in the San Juan Mountains. Ridgway School District is comprised of two schools, Ridgway Elementary (Grades PK-5) and Ridgway Secondary (Grades 6-12). Total student population is around 340 students and with a total staff of around 75 employees. Ridgway School District focuses on student learning, building relationships, outdoor education, and staff development.
The Town of Ridgway is the home rule municipality that is the most populous municipality in Ouray County, Colorado. The town is a former railroad stop on the Uncompahgre River in the northern San Juan Mountains. The town population was 713 at the 2000 census and 924 according to the 2010 census. Wikipedia
Elevation: 6,985′; Area: 1.849 mi², Founded: April 2, 1891, Population: 1,142 (2020)
Ridgway offers a vast assortment of outdoor activities including hiking, fishing, ice climbing, skiing, and much more.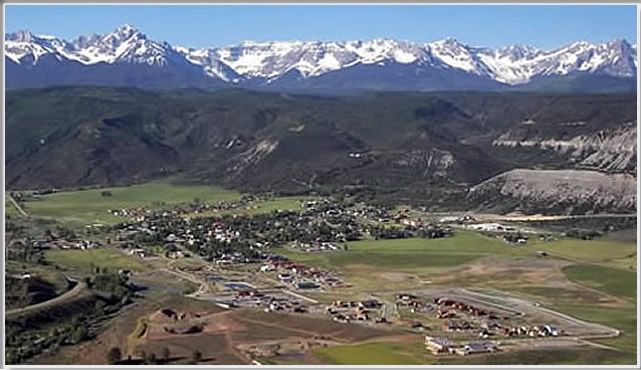 Certified Staff are those who hold a certification through the Colorado Department of Education and are certified with a specific endorsement. Certified positions include teachers, counselors, principals, and school nurse.
Support Staff provide vital support for our teachers, students, and staff. Support Staff positions include paraprofessionals, teacher assistants, custodians, office personnel, technology, food service, and bus drivers.
Current Employment Opportunities
Link to Application and Salary Schedules
Interested applicants should submit a complete Ridgway School District Application, letter of interest, resume, and three letters of professional recommendation. Certified position applicants also must submit a copy of their current CDE license and unofficial transcripts (official transcripts required upon hire) to jbutterbaugh@ridgway.k12.co.us
Qualified applicants will be contacted via email to schedule an interview.
Employee Benefits
Ridgway School District is proud to offer a number of benefits for employees:
Health and Dental Insurance-There are three plans available to eligible employees and their dependents. RSD covers the cost of premiums

for employee-only coverage for eligible full-time employees for the PPO 4 $1,500 deductible plan.

Vision Insurance

Additional products and services available through American Fidelity including Accident, Cancer, Long-term disability, Hospital Indemnity and other policies.

Employee Sick Leave Bank

PERA Retirement

Optional Participation in Tax Sheltered Annuity 401(k) and 403(b) Programs

Short-term and Extended Leave of Absences

Generous paid holidays, paid vacation days, and sick leave
To apply to become a substitute licensed teacher, please complete the Support Staff Application. To apply to become a substitute support staff member, please complete the Support Staff Application.
All Ridgway School District substitutes will be required to work a minimum of 2 days per school year. If that minimum is not met by the end of the school year, the substitute will automatically be removed from the active substitute list, and will need to reapply during the next available hiring block.
Substitute Teachers must hold a Colorado teaching license, or a Colorado 1-year/3-year/5-year substitute authorization through the Colorado Department of Education (CDE).
Substitute Support Staff include classroom paraprofessionals, custodians, secretaries, and bus drivers. No teaching license is required for these positions. A CDL is required for bus drivers.
Required Background Check: Upon offer of employment, substitute support staff must complete a background check specific to Ridgway School District. The cost for the background check is at the applicant's expense. For more information about background requirements, please contact Human Resources.
State of Colorado Educator License Requirements
By law, teachers must hold a current Colorado Teaching or Special Services license on or before the first day of teaching in a classroom or working with students as a special service provider. Remember -- Your contract is with Ridgway School District. Your license is with the State of Colorado. It is the responsibility of the license holder to be aware of the expiration date(s) of their license(s) and renew accordingly.
Check the status of your Colorado Teaching, Special Services, or Administrative Licensure Authorization online. For license information, visit the CDE website and select "Search for Public Educator License/Authorization and Application Status" under links.
To apply for a Colorado Teaching or Special Services license or for license, visit the CDE website licensure web pages.
All applications for licensing are now online to download. The Educator Licensing Applications Wizard guides in locating the application(s) appropriate to situations. If you have questions, call the CDE at (303) 866-6628.
You may also need to take a Colorado state-approved content exam. This will be determined by the type of license issued to you by the Colorado Department of Education. For up-to-date information on content exams, visit the CDE Content Exam website.
For COVID-19 related licensure concerns. Please visit the CDE website.
Types of Colorado teaching and special services licenses
1. Initial Teaching License: Issued to those who are a new Colorado graduate who has passed the state approved content exam (PLACE exam or PRAXIS II exam). It is valid for three years. For information, visit the CDE Content Exam website.
2. Interim Authorization: Issued to an out-of-state applicant (teacher, principal, and administrator) who does not have 3 years of full-time out-of-state K-12 work experience and has not passed the required Colorado content area exam. The Interim Authorization is issued for one year and is renewable once. For information on the PLACE and PRAXIS exams, visit the CDE Content Exam website.
3. Professional Teaching License: Issued to an initial license holder who has completed an approved induction program, is valid for five years and is renewable through documentation of either six semester hours of credit or 90 clock hours of activities or a combination thereof. Professional licenses are also issued to out-of- state educators who can demonstrate three or more years of continuous, successful evaluated teaching experience.
4. Alternative Teacher License: Issued to an individual who has earned a bachelor's degree from an accredited institution and possesses subject matter knowledge appropriate for teaching in public schools; agrees to participate in an on-the-job, one-year, alternative teacher preparation program; is valid for one year and is not renewable. Visit TEACH Colorado for more info.
5. Type III Emergency Authorization: Requested by a District when a licensed person with appropriate endorsements cannot be found. The license is issued to the individual, but is specific to the district, it is valid for one school year only, and is renewable only once at the requesting district's discretion.
6. Temporary Teaching Endorsement (TTE): Allows a special services provider a three year opportunity to add an additional endorsement to an existing license. The TTE holder usually agrees to complete 9 credit hours per year. A TTE cannot stand alone; it must "lie" on top of one of the licenses described above.
Non-Discrimination/Equal Opportunity
In compliance with Titles VI & VII of the Civil Rights Act of 1964, Title IX of the Education Amendments of 1972, Section 504 of the Rehabilitation Act of 1973, the Age Discrimination in Employment Act of 1967, the Americans with Disabilities Act, the Genetic Information Nondiscrimination Act of 2008, and Colorado law, Ridgway School District does not unlawfully discriminate on the basis of race, color, sex, religion, national origin, ancestry, creed, age, marital status, sexual orientation, gender identity, genetic information, conditions related to pregnancy or childbirth, disability, or need for special education services in admissions, access to, treatment, or employment in educational programs or activities which it operates.
Complaint procedures have been established for students, parents, employees, and members of the public. The following person(s) have been identified as the compliance officer for the district: Human Resource Director, Ridgway School District R-2; 1115 West Clinton Street, Ridgway, CO 81432; 970-626-4320; or email: jbutterbaugh@ridgway.k12.co.us.
Outside agencies: Complaints regarding violations of Title VI, (race, national origin), Title IX (sex/gender), Section 504/ADA (handicap or disability), may be filed directly with the Office for Civil Rights, U.S. Department of Education, 1244 North Speer Blvd., Suite 310, Denver, CO 80204. Complaints regarding violations of Title VII (employment) and the ADEA (prohibiting age discrimination in employment) may be filed directly with the Federal Office of Equal Employment Opportunity Commission, 303 E. 17th Ave., Suite 510, Denver, CO 80202, or the Colorado Civil Rights Commission, 1560 Broadway, Suite 1050, Denver, CO 80202.