Ridgway Elementary School Ribbon Cutting & Teacher Meet and Greet
We're proud to announce the official opening of our newly renovated elementary school. Join us as we celebrate this momentous occasion!
The Ridgway Elementary School (RES) Renovation Project
Thanks to the generous support of our Ridgway community, a $12.1 million dollar bond was passed in November, 2022. This community support provided the necessary matching funds to secure a $7.66 million dollar Building Excellent Schools Today (BEST) grant from the Colorado Department of Education.
After working all Fall, 2021 with our Design Advisory Group (DAG) that included teachers, parents, administration, our architect (RTA), contractor (FCI), our owner representatives (DPM), and student input, we are now in the exciting process of renovating our aged RSD school building, built in 1972, as well as making improvements to the northern 1996 section of the building.
Improvements will include:
• Asbestos Abatement
• Replace the outdated, inefficient boiler and air distribution system with a new HVAC system
• Add a new fire alarm, intercom, door access control system and security cameras
• Replace outdated roofing and portions of the metal siding
• Reconfigure the office area to improve building security and functionality
• Bring preschool into the main building to improve safety and security
• Update electrical system
• Replace outdated, inefficient windows and exterior doors
• Improve Americans with Disabilities Act (ADA) accessibility
• Create break-out and flex spaces that can be adapted with growth
• Add restrooms within preschool, kindergarten and first grade classrooms
• Improve connections to outdoor spaces
• Improve energy efficiency and leverage renewable energy
• Add fencing around play areas
• Create an outdoor learning space
The construction, which began June 2022 is scheduled to be completed by Fall 2023. We will share developments with our students, staff and community through our website and Facebook page. If you are interested in details about the Strategic Planning process, our monthly Owner's Representative's reports to the school board, photos or other documentation please click this link. You may also contact Superintendent, Susan Lacy, slacy@ridgway.k12.co.us or Elementary Principal, Heidi Hanssen, hhanssen@ridgway.k12.co.us if you have questions about the elementary renovation project.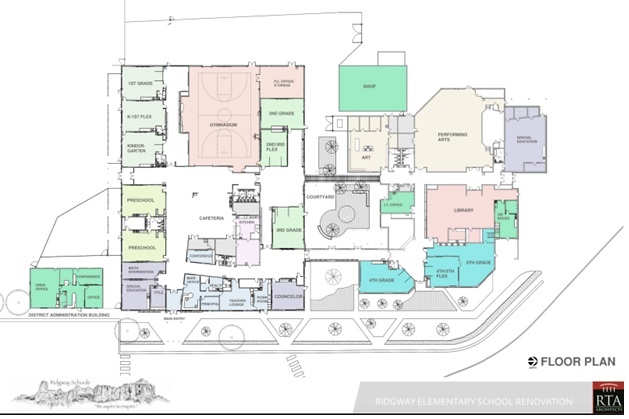 Finalized Renovation Floor Plan
During the 2022-2023 school year, students will learn within the northern 1996 building with some temporary modular classrooms for 5th grade and art and music. The preschool will remain in its current location and students will have access to the playground. [See map of 22-23 Site Plan below]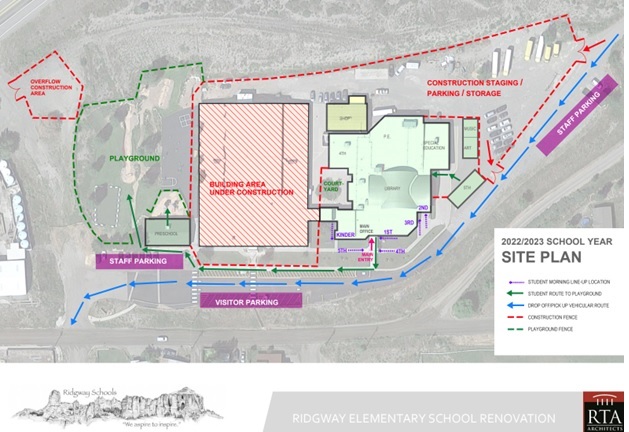 2022-2023 School Year - 2022-23 School Year Site Plan
This summer asbestos mitigation was completed and demolition is currently underway.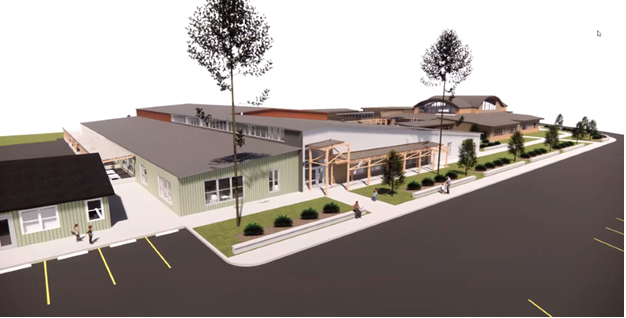 Conceptual drawing of the Elementary School renovation.
The renovation will not only improve the entire interior of the school but also improve outdoor learning opportunities for the students.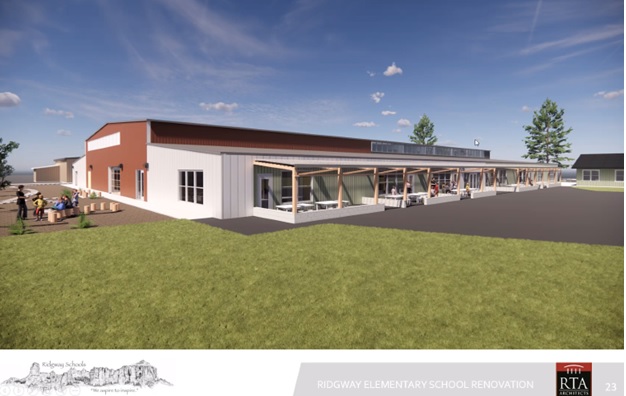 View of the Outdoor Learning porches for the PreK-1 classrooms